The Bureau of Energy, MOEA plans to increase PV installation power production to 20GW production by 2025, signaling the importance of solar energy when it comes to energy generation transition. In alignment with the government's green energy policy, PrimeVOLT, a local inverter manufacturer in Taiwan, introduced a series of inverter product lines applicable to different installation environments ranging from rooftop models, large-scale ground usage models, in addition to models adept for use in harsh salt flats. These products are not only equipped with their unique advantages but also offer localized real-time operation and maintenance services.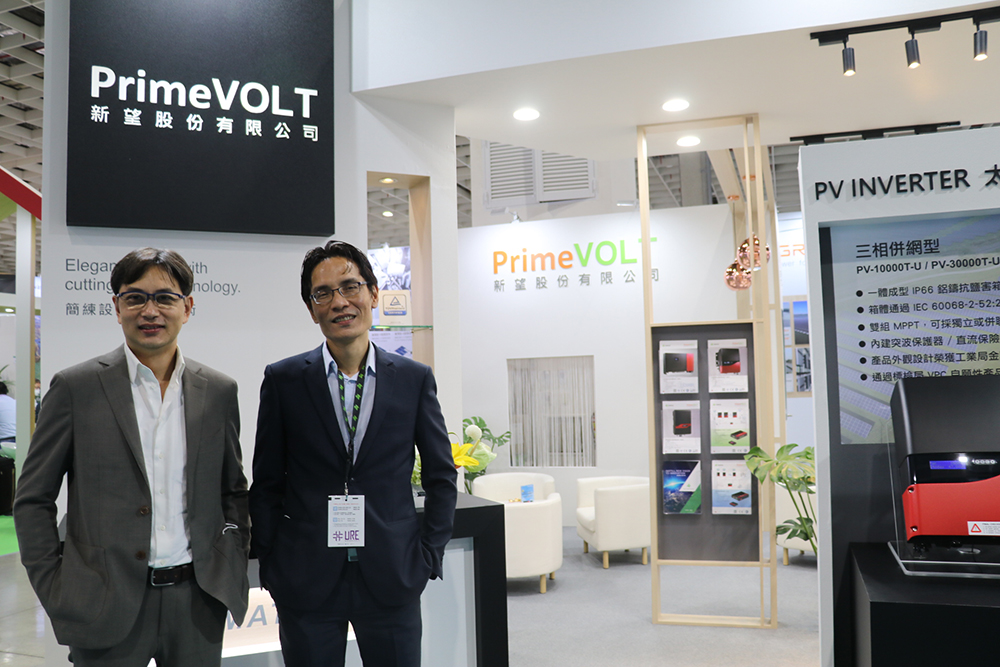 PV inverters are divided into two main categories: string inverters and central inverters. PrimeVOLT is a top manufacturer specializing in the production of string inverters, with its own 3~75 kW inverter series featuring excellent performance in terms of corrosion resistance and the ability to operate in harsh environments such as places of high humidity. Aside from being implemented in the Penghu archipelago for over 5 years; PrimeVOLT's inverters have also been applied in several large-scale salt flats in the central and southern Taiwan, as well as numerous reservoir projects, proving time after time that PrimeVOLT inverters deliver exceptional performance.
For the medium to large scale solar energy sites, PrimeVOLT introduced upgraded 60kW and 75kW Three Phase On-Grid PV Inverters in early 2020. The new inverter sets have inherited the one-piece aluminum die-casting case of previous models, passed IEC salt-fog tests, and solved corrosion & water penetration issues for its welded parts (which was a common problem among conventional inverters). Furthermore, the new inverter sets achieve an IP66 dust & water rating, ensuring optimal heat dissipation and operation in high temperature humidity environments, salt flats, or water body project sites.
Features included in the new inverter sets that are worth mentioning include the string detection and monitoring, Wi-Fi connectivity, non-reliance on DC junction box. The new string inverters can directly connect to the machine and feature a built-in DC switch, a DC FUSE, and a lightning protector that can effectively help EPC manufacturers reduce the system construction costs.
The addition of string detection and monitoring can boost solar power plant maintenance and inspection. The advantage of string converters lies in enhanced modular designs, allowing for compact and light weight products. Each solar array row corresponds to one converter, minimizing impact caused by differences in a series connection and shade, etc. After string detection and monitoring functions have been installed, it assists maintenance personnel in system detection and problem determination if the module is affected by partial shade such as dirt, leaves or abnormal power generation issues occur. This reduces maintenance costs, improves efficiency, as well as the precision of power generation predictions and estimations.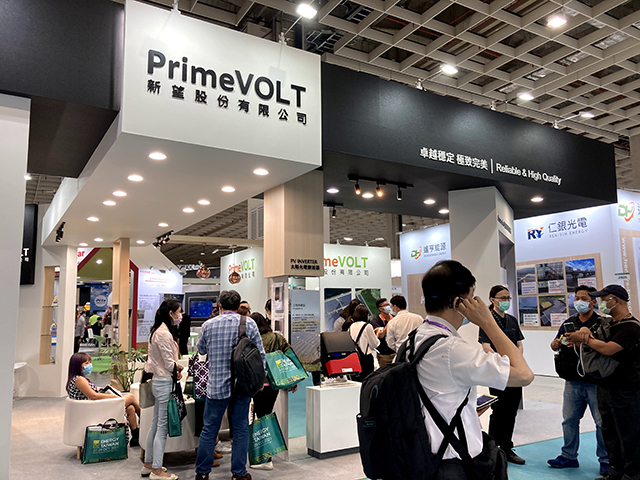 The output voltage of PrimeVOLT 60kW three phase on-grid PV inverters is 380V, which can meet the voltage requirements of rooftop types and factory buildings. The 75kW three phase on-grid PV inverters meet the needs of the high-voltage power systems in parallel of medium and large-scale cases with an output voltage of 480V. PrimeVOLT General Manager Ching-Ming Chuang pointed out that 480V voltage complies with American standards, and the products are not only easily replaceable, but also offer high compatibility. For high-voltage power systems in parallel sites, it will help improve the overall efficiency of the project and reduce maintenance risks and costs.
Regarding the replacement 5-year converters, Ching-Ming Chuang commented on the numerous issues that appeared in the past two years, such as a major client hoping to replace special specification units, or a certain vendor being terminating its services in Taiwan leaving clients with no clear solutions.  To better meet the needs of the consumers in Taiwan, PrimeVOLT strives to deliver product designs with features that are easy to replace offer downward compatibility.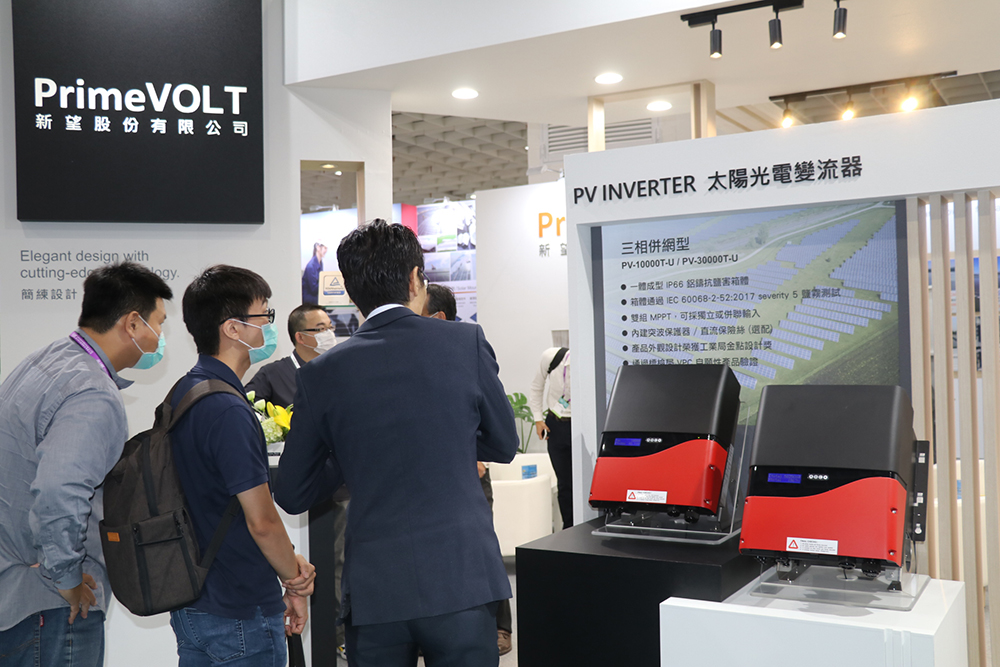 rimeVOLT is one of the few Taiwanese manufacturers in the market with design, research and development capabilities. It has localized real-time services to meet customer needs and can provide professional consultancy services to work alongside clients in finding the right solution. Ching-Ming Chuang explained that the solar power projects require a service life of up to 20 years, during which PrimeVOLT will assist its clients in assessing the convenience and cost of maintenance. The PrimeVOLT team will also assist customers in communicating with electrical technicians and Taipower over technical matters, in addition to offering flexible designs and production performance. These services are rarely offered by other agent vendors.
"As for the outlook of the future," Ching-Ming Chuang states, "the overall device capacity of Taiwan's market has shown a downward trend this year due to policy uncertainties. However, PrimeVOLT will continue to grow at an annual rate of more than 20%.
From face-to-face sales, to product tests and participation in the Energy Taiwan convention, PrimeVOLT has gained prestige and is well received by the industry. To embrace future business opportunities born from Taiwan's goal of achieving 14GW ground type PV installation by  2025, PrimeVOLT is prepared to make use of the anti-moisture and anti-salt fog protection features of its products to not only meet local needs but also to provide real-time technical support to safeguard the energy transition and ensure power generation quality.
https://primevolt.com.tw/wp-content/uploads/2020/10/IMG_1053_1.jpg
480
640
lydiaan
https://primevolt.com.tw/wp-content/uploads/2020/06/PrimeVOLT-LOGO.png
lydiaan
2020-10-14 15:17:27
2020-10-26 10:01:10
Equipped with String Detection and Easy to Maintain, PrimeVOLT Debuts its All New 75kW Inverters